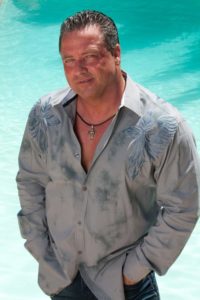 Anywhere Automotive is a Family Owned Business for Over 35 Years
Founded and managed by Michael Babcock since 1980. Mike's experience and willingness began at the young age 17 in San Diego California. It's funny today when I think of being a business owner & how it all started. My love for cars has always been a part of my life – taking things apart & knowing what to do with them next. I bought my first vehicle, a 1955 Chevy truck, 15 years old, before I had my license. With that truck, I did a complete "ground up" restoration, lifted it 14", made it 4×4 and showed at the San Diego Car Show. Took Second Overall in the Truck Class.
Mike embodies an entrepreneurial spirit and has established base roots in the automotive industry for over 43 years. He started his apprenticeship with a local tire store in San Diego California. His experience directed him on to Goodyear tire as he worked his way to be one of the best and top producing technicians mastering suspension, brakes, alignment, Cooling systems, air condition, and smog while going to school to become ASE certified in all areas, Mike then worked at several dealerships Nissan, Honda, Toyota, and Chrysler and with all his knowledge he decided to go into business for himself. In 1980, at home in his driveway Anywhere Automotive was actually started.
Anywhere Automotive was officially opened for business first in Southern California and then moving and reestablishing the business to Concord California in December 1988. Starting with a single employee, leasing a 1,000 square foot building, it wasn't long before more space was needed to expand and hire employees. Anywhere Automotive is a highly successful and progressive automotive business today. Serving all its customers with the highest level of customer satisfactions while providing outstanding service on all your automotive needs for over 30 years!
Don't Take our word for it.
Hear what people just like yourself are saying about
Anywhere Automotive
Feb 1, 2019
Mike Babcock and Anywhere Automotive
was there when I needed them most.
No one wants to be left out in the cold with a dead car, but unfortunately this happened to me - and right after I picked up more product for my business, too! I called Mike and he came out to me, fixing my problem and quickly getting me back on the road.
I will definitely be using Anywhere Automotive again for any other vehicle needs!
Feb 1, 2019
I have been a patron of Anywhere Automotive for the past 10 years.
and over the course of those 10 years have owned 4 different vehicles. I have done everything from oil changes, to large jobs and Anywhere automotive has always delivered quality work, often ahead of time, and at the lowest price possible. The staff at Anywhere Automotive has always been courteous, friendly, and fair, which is what has kept me coming back all these years. The owner, Mike, has always made it a point to personally take care of me, and give me the best prices in town. He's even picked me up in his personal car when my car has left me stranded, after hours on the weekend. Anywhere Automotive has consistently gone over and beyond the normal standard one could come to expect of their mechanic, which is why I not only call the guys at Anywhere Auto my go to guys for anything car related, but my longtime friends as well.
Feb 1, 2019
I'm a fan for life of Anywhere Automotive.
I drive 100 miles, round trip, to have them service my car and my husband's car because they are are always courteous, honest, affordable, have reliably diagnose my problem, and fixed it quickly. Great people, great service, great prices! I highly recommend them for all of your auto repair needs.
Feb 1, 2019
Dear Michael,
Thank You again for taking care of this "old woman". Between you and Carlos
I feel fortunate that I can call on you two for my auto needs.
I've been coming to you for over 20 + years now. Since Owen passed I've really relied on you two to help me. I appreciate you always being kind and considerate of my issues at hand. Thank you for going out of your way to help me in certain ways. At my age, I call you my "car doctor". My friends get a kick out of that. I've got doctors for everything else. Thank you for sending out the coupons that I get in the mail. They sure do help me out when I need them the most. You're a gentleman Michael and I sure thank you.
Sincerely,
Feb 1, 2019
I wanted to Thank You for all that you did for me on my car.
It's nice to have someone that I can trust when it comes to my car.
I do appreciate you taking your time to explain things to me. As women, we feel that we can be taken advantage of when it comes to our vehicles. Being single now, I need that stability in knowing that I can rely on someone to take care of my car needs. Carlos has been steady over the years as well. I like being able to drop off my car and pick it up the same day.
I hope you have a great day Michael, and again thank you for everything.
Regards,
You can definitely count on us doing a remarkable job for you!
We offer free estimates for your convenience. We are always willing to listen to your needs and perform any task.